Jack Petchey 'Speak Out' Assembly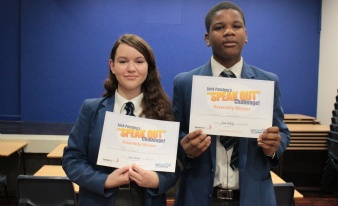 On Tuesday this week, we held our Jack Petchey Speak Out Assembly. Seven students competed in front of a formidable panel and the whole of Year 10 for the opportunity to represent Ashcroft at the regional finals of this competition.
Javaun Jackson was selected after his electric and lyrical performance of his speech titled: 'The Key to our Future.' Javaun discussed the importance of eccentricity, of thinking outside the box and of being innovative. These are characteristics that the judges, and many of the nodding heads in the room, felt were genuine to Javaun's personality.
Ally Stewart was selected for her dramatic but personal rendition of her speech 'The Truth', in which she discussed her experience as a victim of body shaming at a recent audition that she had tried for. They obviously didn't have the talent scouts that we have here, as she will soon be appearing as Dorothy in the Ashcroft Wizard of Oz!