Helen through to ARTiculation Final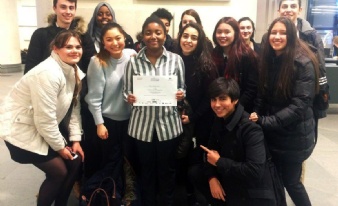 Well done to Helen Webley Brown for getting through to the finals of this competition after scooping first place at the London Regional heats. She will now represent Ashcroft and the London area at the England ARTiculation Symposium and Finals on 10 March at Clare College, University of Cambridge.
Helen competed against eight other schools presenting her ideas about Bernaudt Smilde's work 'Nimbus' in a precise and engaging manner which the adjudicator, Educationalist and author Penny Huntsman, commended.
This is the second time an Ashcroft student has represented London at the National Finals and we wish Helen the very best of luck.
A group of IB students and staff will accompany Helen to support her quest on the day and will also enjoy a talk from British artist, Sir Antony Gormley plus an art-focused tour of the university.